Details

Category: Entertainment
Created on Thursday, 10 December 2009 09:41
Written by Elaine
Singapore Dreaming, by lawyer and author turned filmmaker Colin Goh (Talking Cock: The Movie), is a poignant and moving story of a family coming to terms with their dreams, hopes and aspirations. The satirical comedy is the opening film for the Singapore International Film Festival in 2006.
Richard Low plays Huat, a family patriarch and a cold debt collector troubled by money woes of his own, and who is unsatisfied with his housewife of a spouse, Luan. He pins his hopes on his son, Seng, whom he sent abroad. However, his hopes were dashed when Seng realises how unrecognised his American degree actually was. On the other hand, he overlooks his daughter, Mei, a capable secretary who is also under-appreciated by her boss at work. She is expecting her first child with her husband, an ex-army regular turned unsuccessful insurance salesman.
A twist of fate for the family comes when Huat strikes lottery. Ironically, the family situation is worsened with the windfall. Seng borrows money from his father to set up his own business but instead splurges on an expensive car. Huat later suffers a heart attack before he is interviewed for the long awaited membership of a country club.
The competent cast gives a strong performance in three languages and dialects - Hokkien, Mandarin and Singlish. And despite the film's focus on and portrayal of a stereotypical Singaporean household, it is rich and layered with emotions. Singaporeans will identify with the film's realism and social issues the local population faces - of parents, freedom to pursue our own aspirations, managing your bosses and maids, definition of success in our society such as the 5Cs, and more.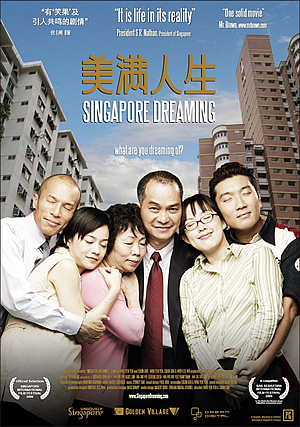 Singapore Dreaming leaves us with much food for thought: Are we just like the characters portrayed? Or do we dare to step out of our comfort zone and take the path less traveled? A local social commentary of a film with rich characters, FreshGrads says Singapore Dreaming is a must watch for Singaporeans.
Related links:
Singapore Dreaming official site
,
Be With Me